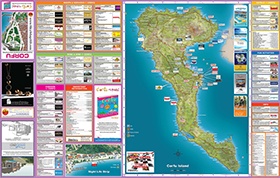 MAJESTIC Corfu, Homer's "beautiful and rich land", pulls off split-personality like no other Ionian island – the former British protectorate manages to be both posh and playful at the same time.

Corfu's raucous Kavos strip on the southern tip obliges the Club 18-30 set with foam parties and pizzerias. Meanwhile, the north-east coast, especially the lush stretch between Nissaki and Kassiopi, has been dubbed Kensington-on-Sea and is a haven for Royalty, Rothschilds and Russian oligarchs.

Lying just off the Albanian coast, Corfu's wealth of strategic castles and churches are legacy of its battle-laden past (the Venetians, French and British have all at one time held claim). Sickle-shaped Corfu Town (Kerkyra) is completely encased by two such fortresses; while the World Heritage Campiello (Old Town) has been compared to Siena or Dubrovnik.

Corfu's mixed heritage is also present in its fine museums, high-calibre Italian-influenced cuisine and in the island's fame as the cricket capital of Greece.