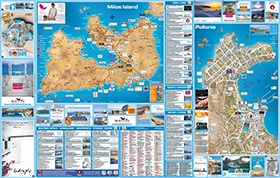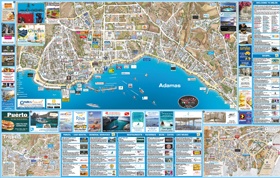 OTHER Greek islands might lure visitors through their party credentials, but for golden Milos, it is its natural "other-worldly" beauty that is the main event.

This horseshoe-shaped volcanic island is prized for its spectacular geological and rock formations, along with its seventy-plus beaches of powdery volcanic ash sand belts in rainbow hues of white, gold, red and grey. Milos' other great claim to fame? It gave the world one of the great treasures of the Hellenic Empire: the Aphrodite of Milos (Venus de Milo), discovered inside buried ruins by a peasant in 1820. Discover Milos with your free Sky Map guide and enjoy the experience of a tour in the island.

Milos presently exists in fine harmony with its tourist trade. A steady stream comes to marvel at the eerie lunar-landscape of Sarakiniko and to dive in the secluded crystalline caves of Kleftiko, once used as pirate hideaways. But the island is not yet overrun by the cruise ships. Culinary and night life revolves around the stately capital of Plaka and in the main port of Adamas, located in the flooded interior of an old caldera. Explore the beauties of Milos with your free travel map.

Endless digital momentoes are inspired by the brightly-painted fishermens' garages – syrmata – lining the seafront at St Constantine on the northern coast, and by the sunlit alleyways of Tripiti with its third century AD Catacombs, Greece's earliest known Christian settlement.

Visitors can pick up a free map from the Sky Map partner hotels listed under accommodation section or at any of the shops or services listed on the map. Other major distribution points are ferry companies, the reception of Aegean Speed lines, the Municipality Stand at the Port in Adamas, museums, tourist offices.