SkyMap printing is ISO 14001 certified.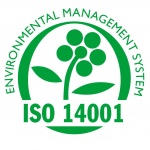 At SkyMap we are conscious of the impact we have on the environment and passionate about minimizing the negative effects it may have.

SkyMap printers have successfully secured ISO 14001 certification as it recognises a strong commitment to using printing processes and introducing measures that minimise our impact on the environment.

Certification to this international standard assures our customers that our printing adheres to a series of international standards on environmental management such as 100% controlled waste management system which guarantees that no wastes are disposed of irresponsibly.
ISO.14001 was first published as a standard in 1996 and specifies the requirements for an organisation's environmental management system. It applies to those environmental aspects over which an organisation has control and where it can be expected to have an influence.

Also, our paper is sourced responsibly which ensures that our maps come from well managed forests where people, wildlife, rainforests and the environment benefit from good forestry practices.