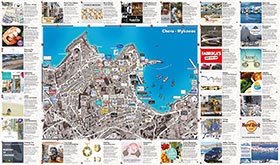 Get your travel map for free and experience your finest holidays in Mykonos Island.
Look out for the new edition of Sky Map Mykonos, the best travel map of Mykonos Island. A free travel guide for your holidays in Mykonos with travel information including hotels, restaurants, cafes and bars, shops and fashion boutiques, activities and sports.

THE island of the winds, the Capri of Greece, party paradiso… Mykonos has as many names as it has faces. This famous Cycladic gem, lying 150km east of Athens, has long been worshipped as an international hotspot thanks to its heady blend of sunshine, style and hedonism. And a roving pelican named Petros.

Classic Mykonos moments are plentiful. They abound on the south coast's gregarious beaches - Paradise, Super Paradise and Platis Yalos and amid the winding cobblestone streets of cosmopolitan Mykonos Town (Chora) with its tumble of white cubed dwellings and brightly-painted doors. Stroll along the retail hub of Matoyanni Street (where rents rival Fifth Ave) to see the best fashion and jewelry shops and chill out with cocktails on a ramshackle balcony in eighteenth century "Little Venice", while the island's stately windmills beckon the sunset. Discover Mykonos Town with your free Sky Map guide and enjoy your holidays.

Mykonos is undoubtably the most energetic of the Greek islands. But serenity is still possible at the more secluded northern beaches, like Ayia Anna, Houlakia, Kapari and Ayios Stefanos. A recent wave of boutique hotels has also lent a more chilled, grown-up aesthetic to the cocky Mykonos of old. Explore the island with Sky Map Mykonos, the travel map that will guide you to the best of Mykonos Island.

Visitors can pick up a free map from the Sky Map stand in the arrivals hall of Mykonos Airport or one of the shops, hotels or services listed on the map. Other major distribution points are ferry companies , the reception of Blue Star Ferries, the SeaBus (service from the new port to Mykonos Town), cruise lines, museums, embassies, tourist offices, bus and train stations.