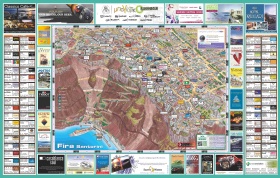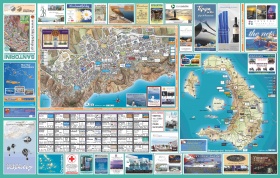 Look out for the new edition of Sky Map Santorini, the best travel map of Santorini Island. A free travel guide for your holidays in Santorini Greece with travel information including hotels, restaurants, cafes and bars, shops and fashion boutiques, activities and sports.
SANTORINI – home to some of the planet's sexiest pools, Greece's most ardent sunset industry and hundreds of photogenic cats – is indisputably the island with the biggest "wow" factor. Discover the island with your free Santorini Map and enjoy the experience of a tour in the island.

Its singularly spectacular geography is a stark reminder of Nature's fury. Santorini's sultry black volcanic ash beaches and awesome crescent of multi-coloured cliffs jutting 300m into the sky from a sea-drowned caldera are legacy of the most violent eruption in recorded history. Explore the beautiful island with your free Santorini map by Sky Map.

This Cycladic pin-up enjoys a virtually year-round tourist trade. Its meandering lanes – especially in the cliff-top capital of Thira - are often choked with visitors treading the circuit between Imerovigli's Agios Nikolaos monastery and the golden mile of jewellery boutiques. Similarly, the applauding flash mobs gather nightly in Oia at Kastro fortress - or on whimsical balconies - to aim their iPhones at Nature's closing ceremony. Sky map Santorini will be your favorite guide while you make your tour to the island.

Santorini, the "foodies island", is the place to head to sample Michelin-starred fare and off-piste gourmet delights (eggplant tiramisu anyone?). Thanks to the island's surprisingly fertile volcanic soil, there's also a flourishing wine industry yielding some of Greece's finest drops.

Visitors can pick up a free map from the Sky Map partner hotels listed under accommodation section or at any of the shops or services listed on the map. Other major distribution points are ferry companies, museums, tourist offices in the island as well as in travel agencies in Mykonos, Naxos and Paros.