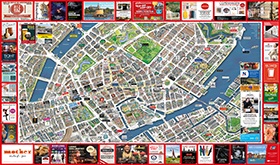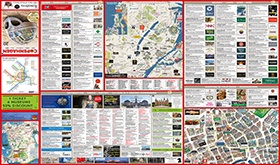 NEVER standing still, always on the move, Wonderful Wonderful Copenhagen has earned more top accolades than Meryl Streep has Oscars.

Denmark's capital has been variously crowned the "Most Liveable" destination on Earth; the "Most Eco-friendly"; and the "Most Design-savvy". Its cycle-worshipping citizens are often measured as the happiest folk on the planet. And Copenhagen not only has more Michelin star-decorated restaurants than anywhere else in northern Europe; its New Nordic cuisine super-star NOMA has clinched the title of world's best restaurant three times.

Crisscrossed by a sinuous network of canals and waterways, this compact city's most treasured icons are The Little Mermaid statue, inspired by Hans Christian Anderson's bittersweet fairytale, and its splendid palaces – foremost, the monumental main royal residence of Amalienborg.

Copenhagen's diverse aesthetic charms are on best show in the paintbox facades of seventeenth century Nyhavn harbour; in the affluent canal quarter of Christianshavn with its elegant shuttered townhouses and granite quays; and in the colourful indie murals of self-governing Christiania – Copenhagen's alternative-minded "freetown" and a living symbol of Danish tolerance.

Whether it's riding the vintage ferris wheel at dreamy Tivoli Gardens (one of Europe's oldest theme parks); sampling the gastro-marvels and home-brewed organic ales of the uber-cool Norrebro and Vesterbro districts; strolling the delightful Stroget, Europe's longest pedestrian shopping street; or picnicking on delicious smorrebrod open sandwiches, the Danish lunchtime staple, alongside the hipsters and lovers on Botanisk's urban oasis - the famous Danish "hygge" always abounds. Tricky to translate but encapsulating all that is Copenhagen, "hygge" falls somewhere near "open-hearted, cosy and alive".

Copenhagen, the perfect size for endless, lazy promenades along the waterfront, homemade icecream waffles in hand or a sample of the local beer. Cosy "hyggelige" Copenhagen, so much more than just an ugly duckling...