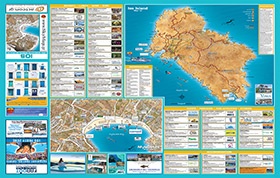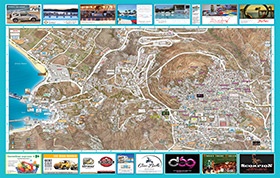 IOS might be the final resting place of the epic poet Homer - but it's doubtful how much sleep he is getting.

Ios is the Cyclades' "good time girl": By day, she is your textbook Cycladic specimen with her myriad of inviting sandy beaches, weave of snow-white cubic houses, sassy windmills and azure-topped churches. By night, electric Ios is a party and everyone is invited. The fun is focused almost exclusively in the winding narrow streets of Ios Town - nestled in the side of a very steep incline (reached by donkey trail). Ios map by Sky Map will be your favorite guide while you discover the Town.

In the Seventies, hippies with sleeping bags regularly converged on attractive Milopotas beach and today, it is still one of the most besieged spots, alongside Valmas. Serenity seekers head for the beautiful charms of the southern coast's secluded bays such as Kalamos and Magganari, setting for the cult French hit The Big Blue. Explore the beautiful island with your free travel Ios map by Sky Map.

Visitors can pick up a free Ios map from the Sky Map partner hotels listed under accommodation section or at any of the shops or services listed on the map. Other major distribution points are ferry companies, Blue Star Ferries and their offices in Mykonos, Santorini, Naxos and Paros, Acteon Travel at the port and in Town and tourist offices.