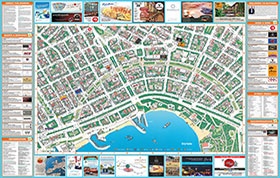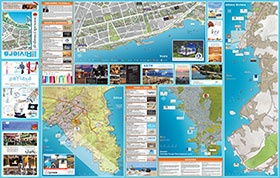 Athens Riviera", the most cosmopolitan area of Athens, is a 20 km stretch of coast, less than 18 km South of the centre. With picturesque sandy beaches, wonderful seaside resorts and restaurants with breathtaking views. The high fashion boutiques, top-notch eateries and buzzing coffee shops attract people from all walks of life.

There are many truly amazing beaches along the Saronic Gulf, which stretches from the southern suburbs of Athens to Cape Sounio in this impressive palm tree fringed stretch of coast. Within easy access of the centre of Athens you can escape the bustle of the city and enjoy walking, swimming and
water sports.

Take a stroll in the marinas or browse the high-end shops, dine on the waterfront and watch the sunset, or enjoy a night out at some of the trendy clubs along the coast famous for their amazing views, fun atmosphere and endless hours. In the many seaside towns along the coast you can get the 'island' feel without ever leaving the mainland. The Athens Riviera is a hidden gem.

18km from Athens
20 km from Pireas port
25 km from Athens airport "El. Venizelos"
Well accessed by public transport or taxi

Read more.

Read more.

Read more.